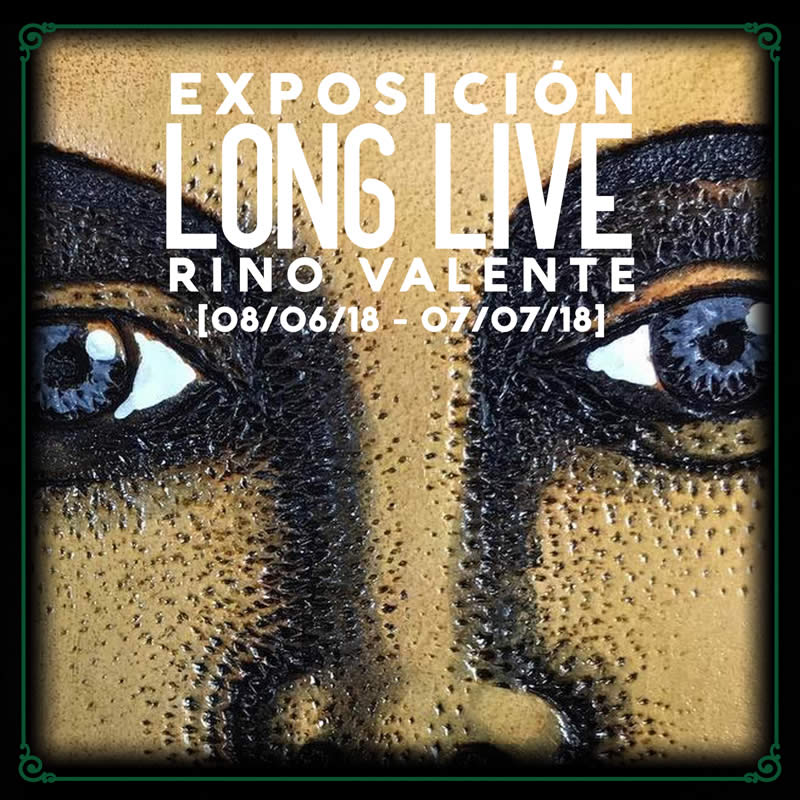 18 May

LONG LIVE RINO VALENTE | EXPOSITION IN NO LAND TATTOO PARLOUR | 08.06.18

Posted at 11:07h

in

Articles

,

Blackwork

,

Dotwork

,

Exhibitions

,

Guest

,

Japanese

,

Neotraditional

,

News

,

Newschool

,

Oriental

,

Tattoo styles

,

Traditional

On June 5, 6 and 7 we will have Rino Valente as guest tattooist in our tattoo studio in Valencia. To culminate his visit, on the 8th at 19:00 a sample of his work will be exhibited in our show room, which will be available until Saturday, 7 July. This inauguration will count on its respective party seasoned with Ambar beers, strange concoctions by the hand of Jägermeister , and DJ Rosvil at the decks. The party will continue in the Magazine Club (19 Pérez Escrich street) from midnight, where the DJ will be the mythical Mr. Varo (Funtastic Dracula Carnival).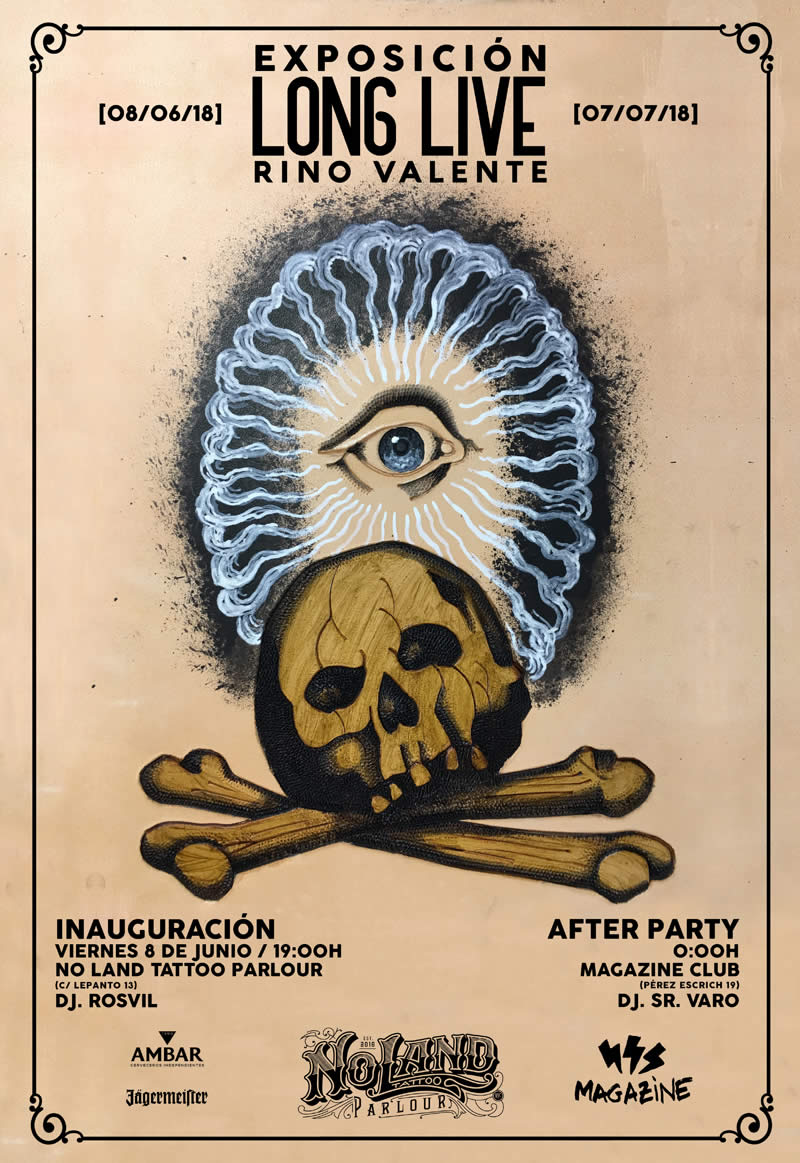 If you are curious and want to know what is going to be exhibited, just read on. Don't be scared, this isn't the typical post to trick dummies like "A tattooist exhibited in our gallery and this is what he showed us. The last work will surprise you". We're not like that. We simply tell you a story, and its succession of events will perfectly explain what personal curiosity, love and dedication to a job can do to a person, and its result, which you can see in this exhibition.
"I want to tell you a little story
Cause it makes me warm inside
It's about some friends growing up
And all the things they tried"
Ian Mckaye / Minor Threat.
Our protagonist was born in 1968 in a small Italian town located in the province of Foggia, called San Severo. Since he was 2 years old he lived in Florence and, being in his twenties during the 1990s, his musical and personal interests led him to discover the Italian underground scene and the philosophy of Do It Yourself. Clearly influenced by Ian Mckaye and bands such as Black Blag, Gorilla Biscuits, he began to attend hardcore, punk, metal, grind concerts, where he had his first contact with the world of tattooing, as it was easy to see tattooed people in those circles. He got tattooed, and, of course, one tattoo lead to another, and step by step he began to learn how to tattoo.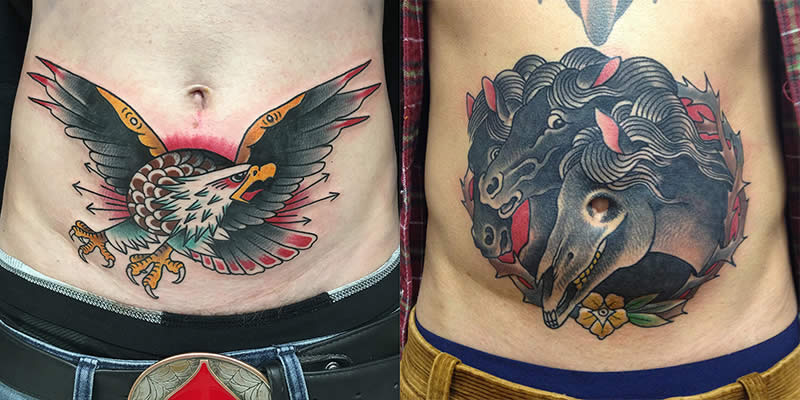 Rino Valente's tattoos.
Like any other tattooist, at the beginning he only tattooed small things to colleagues, and it took 3 or 4 years before he started to make bigger pieces. The information at that time was rather scarce, and in some of the few magazines that he could lay his hands on he got acquainted with the works of Eddy Deutsche, Marcus Pacheco or Aaron Cain, who have been very important influences for him ever since.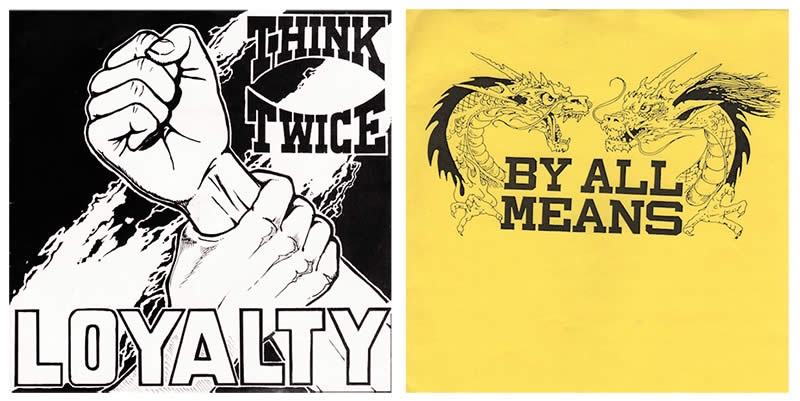 7″ covers (1991-1993) / X-Hands Fanzine .
At the same time he was developing his creativity by playing in hardcore bands (Unsung, Aging, Summer Camp Disease), making a fanzine called X-Hands (related to the straight-edge scene), designing album covers, t-shirts, … and all this without touching heroine.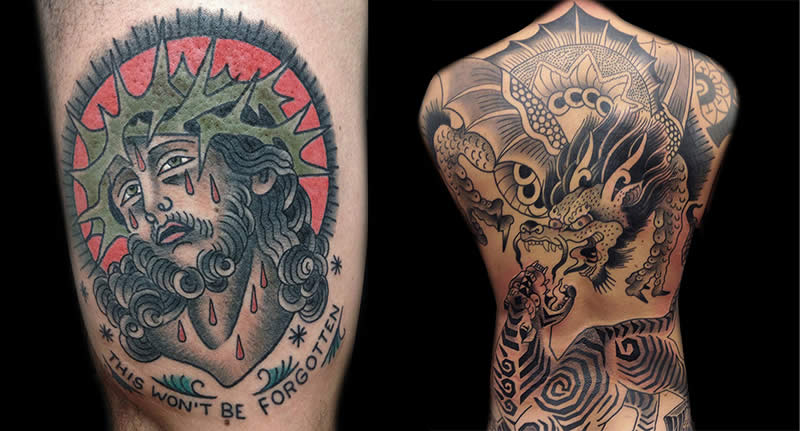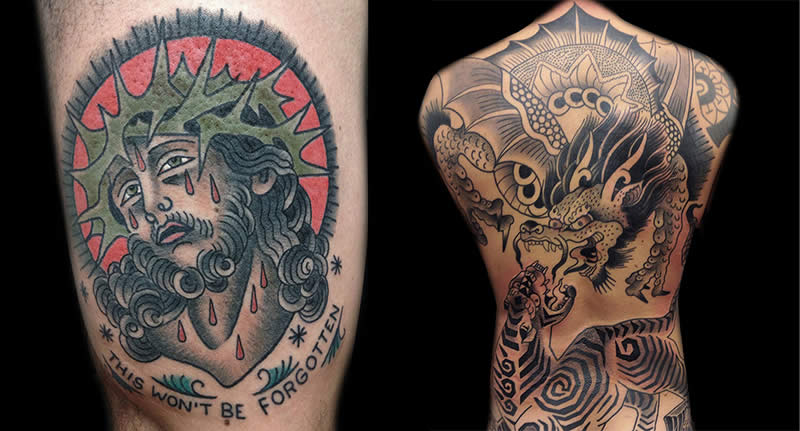 Rino Valente's tattoos.
Little by little he got more involved professionally in the world of tattooing and started travelling to learn from the best tattooists in the world, working in different studios in Finland, Germany, Sweden, Spain, United States.
At the end of the first decade of the 2000s he combined his work as a tattooist with his knowledge of graphic design and illustration working for clothing brands. He made a limited edition of the famous Suede Classic shoes by Puma , and for the brand Sundek he designed clothes for two seasons.
Leather Tooling by Rino Valente.
As he seemingly had a lot of free time, about five years ago he discovered the leather tooling technique, in which he can mix two of the things he likes most: leather and the handmade. He combined it with tattoo iconography and tried different markets making bicycle and motorcycle seats, but eventually returned to what is related to tattooing by creating armrests, leather portfolios for tattoo artists, etc. … perfecting his technique and turning craftsmanship into pure art.
Leather Tooling by por Rino Valente.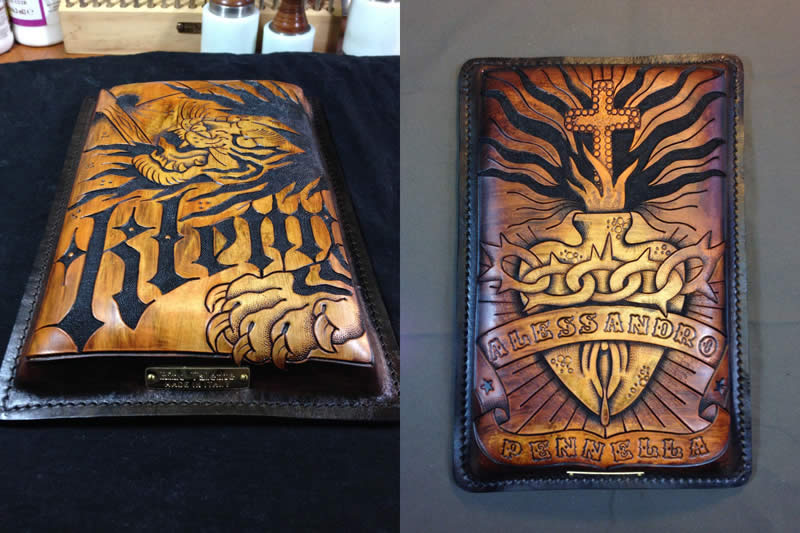 Leather Tooling by por Rino Valente.
In 2017 he held his first solo exhibition entitled "Morning Woods" at the Galerie 1900 in Dusseldorf (Germany) with a great welcome, and two more in Florence entitled "Forget Me Not" and "Forget Me Again".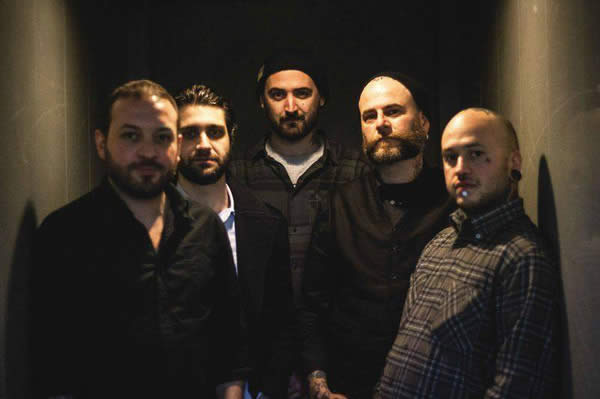 Hessa band.
Half a century old, he continues with his curiosity, his love and respect for what comes out of his hands, his way of thinking, and not wanting to stuck in a dull and boring life. He currently works in his own studio Peekaboo Tattoo Parlor in the Italian city of Pistoia, travels as a guest artist to studios around the world, continues to work the leather, and is still active musically playing guitar in a dark wave band called Hessa.
¡¡¡LONG LIVE RINO VALENTE!!!
You can contact him at rinovalente@yahoo.it or by visiting his Instagram @rinovalente_handcraft.
You can see here his artworks: