01 Dec

First collective No Land Tattoo

Posted at 16:45h

in

Articles

,

Blackwork

,

Dotwork

,

Events

,

Exhibitions

,

Japanese

,

Lettering

,

Neotraditional

,

News

,

Newschool

,

Oriental

,

Realism

,

Tattoo styles

,

Traditional
The first collective No Land art exhibition was an interdisciplinary art works showcase created by people involved in the project.The exhibition celebrated diverse artistic practices that not only payed homage to the tattoo craftsmanship but It went far beyond the skin as a primary source.Valencia Tattoo Exhibition.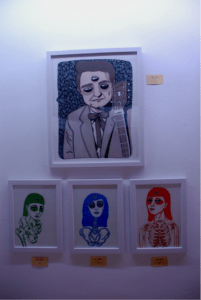 Paintings, sculptures, engraving and other process are interwined with the rich visual lexic of the contemporary tattoo culture such as the old school, neo traditional, blackwork and pointillism styles.The exhibition plays with the tattoo countercultural status dichotomy, with the transposition of these to a "big art" or " reliable media sources" social entries while shows a series of works from 16 local and international artists all connected to No Land Tattoo Parlour.
The night featured Dj Pablo Cebrian as guest Dj. The event was sponsored by cervezas ambar.