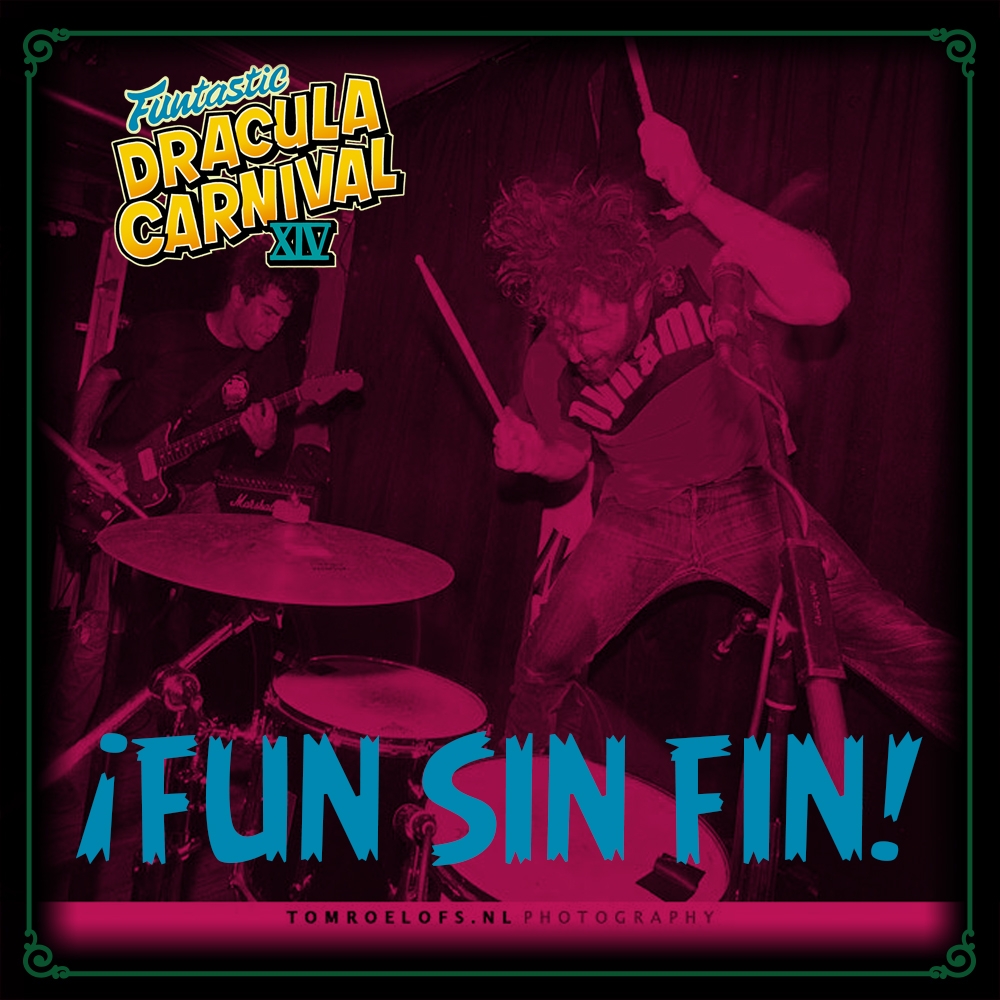 17 Oct

'FUN SIN FIN' IN THE FUNTASTIC DRACULA CARNIVAL XIV Y NO LAND TATTOO PARLOUR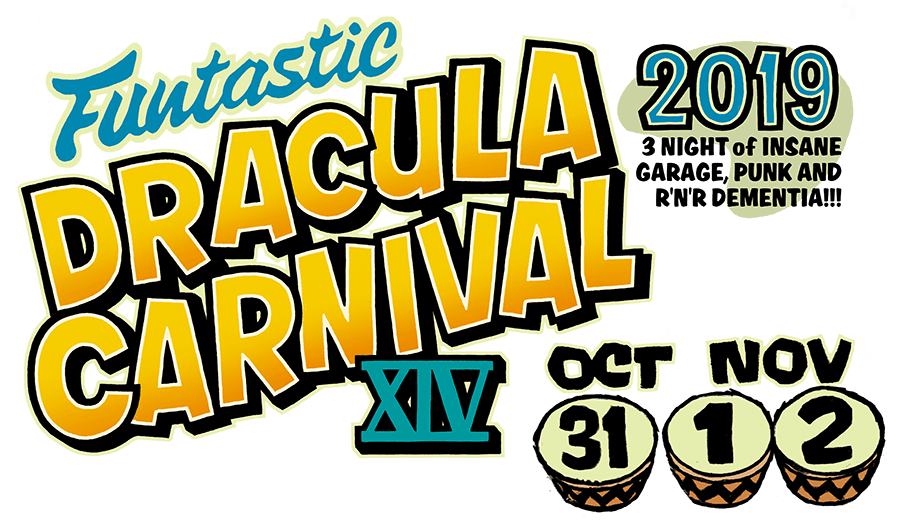 New edition of this great independent festival of rock and roll, garage, punk,… celebrating 14 editions thanks to the enviable organization by Paloma Borbone (Ulan bator Trio and Los Borbones) and Sr.Varo (Drums of Dr. Explosion, Las Munjitas Del Fuzz and Los Ass-Draggers), who have been organizing concerts for more than 25 years.
This event bizarre par excellence includes numerous bands from all over the world and a diverse set of DJ's, people wearing fancy dress, Go-go's,… All this seasoned with a 3-day party in an ideal environment, in Benidorm, to make us "fear and loath", as in Las Vegas but in the Marina Baixa.
This year the line-up features performances by Nick Waterhouse, Nuevo Catecismo Católico, The Spits or The Rip Offs, Davila 666, Demolition Doll Rods, …, among others, and once again all the tickets have been sold in minutes.
Since its first edition in 2005 many bands have performed from here and there like Ana Curra, Fela Borbone, Futuro Terror, Hollywood Sinners, La Moto de Fernan, Thee Johnny Casino 3, Hombre Lobo Internacional, Las Carcomas, Ukelele Zombies, Aullido Atómico, Tumba Swing, Ulan Bator Trio, Wau and Arrrghs!… and from beyond like Los Saicos, Man or Astroman?, New Bomb Turks, Nobunny, Shock Treatment, The Anomalys, The Gories, The Kids, The King Khan and BBQ Show, The Masonics feat. Miss Ludella Black, The Mummies, The Subsonics, The Trashmen, …
The festival will be held on 31 October, 1 and 2 November in the legendary Penelope Disco (Comunidad Valenciana Ave., 120) which has been in operation since 1968 and has become one of the icons of this Valencian holiday city par excellence.

In this link you can see the distribution of the venue for the event, and if you click here you can find all the information about the Funtastic Dracula Carnival XIV.
---
'FUN SIN FIN' AND NO LAND TATTOO PARLOUR.

BEACH PARTY
---
As we said in this previous post, No Land Tattoo Parlour sponsors the morning party entitled "FUN SIN FIN" that will be held at Penelope Beach (Avenida de Alcoy 10, Playa de Levante) on the beachfront on Saturday, November 2 at noon. This party will be completely free and will feature performances by Australians Digger & The Pussycats and the English Oh! Gunquit.
DIGGER & THE PUSSYCATS: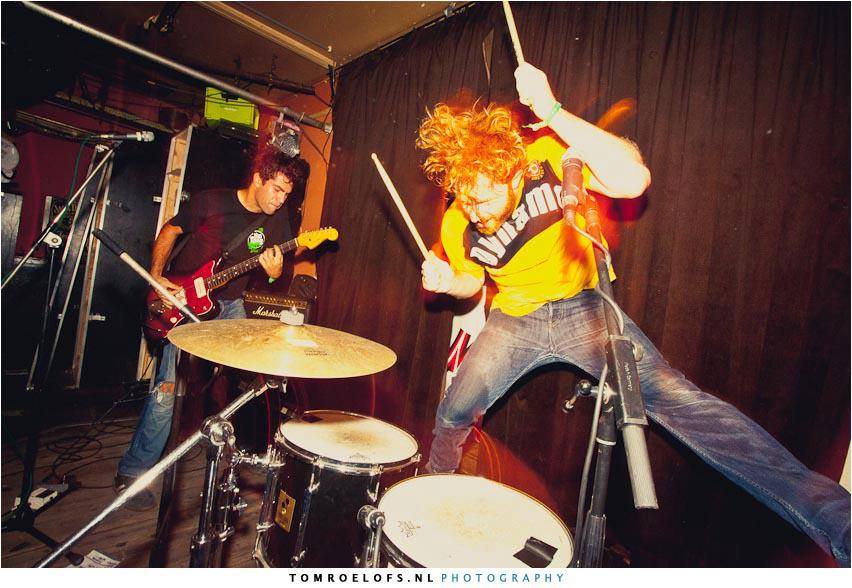 Australian duo composed of guitarist Sam Agostino and drummer Andy Moore, and was formed in early 2003. Their style is based on trash-r'n'r, and it all started as a joke while looking for bass guitarist. At the end of 2003 they signed with Spooky Records (Melbourne) and already have 3 LPs released.
OH! GUNQUIT:

This group of 5 musicians based in London play a kind of rumble-bop, freakabilly with a little raw r&r, wild garage rock, and twisted surf-punk. The group was formed in 2010 with the idea of combining a new vision of psych-surf, garage-punk, exotica & rock'n'roll and it has members from Italy, USA, Colombia, Spain and the UK.
In addition to these 2 performances there will be food, drinks and music by the Foot Stompin' Dj's whom we have interviewed:
WHAT IS FOOT STOMPIN' CLUB AND WHO ARE THEY? WHY THAT NAME?
It's a club that was born in Barcelona by the hands of Paco Donald, Helena Holiday, Roy Brille and Marc Tàpies. As fans of vinyls and dancing music, parties were regularly held to burn the dance floor.
At about the same time there was talk of setting up the club in other cities and soon it spread to Valencia and León. Foot Stompin' Llión is run by Rob Be Bop and Issa Musan 'Sabela', where they organize gigs quite frequently.
And here in Valencia it's the three of us who began to organize parties in November 2017 in La Peligro, a venue that opened the doors to us from the beginning and in which we feel at home, in which we usually invite another DJ to share the deck with us to make the night more complete.
Our intention is basically the dance and fun in abundance, playing rhythm'n'blues, soul, latin, garage-sixties, rock'n'roll, …. and other tunes that move the dance floor. We understand that fun begins in the cabin and is transmitted to the floor, a fact that we believe has made us one of the most popular parties of La Peligro.
The name translated from English would mean the gesture of stepping on the dance floor strongly and with euphoria the moment you hear that song that makes you leave everything to go dancing.
TELL US A LITTLE BIT ABOUT WHO YOU ARE AND YOUR INFLUENCES.
Antonio PataNegra has been playing records for more than 20 years in different venues in Valencia, moving solo or with different groups such as Big Sound in the Club and Hulla Baloo with Quique Lledó and Nacho Camales. His influences are the 50′-60's, mainly rhythm'n'blues and soul, opening up to the white rhythms that were impacted by these sources such as garage and rock'n'roll.


Javato started about 7 years ago, playing at the parties he was throwing with a promoter who had already disappeared, until he moved to London with his records and continued playing there, to finally return to Valencia and set up the Foot Stompin'. He started out interested in punk and harder sounds, until he discovered Jamaican music and through it rhythm'n'blues, soul, etc.
Sisterlau started to play very discreetly almost 18 years ago and it has been many years since that she's doing it more regularly. She is an active member of the Bredda Jamaican Music Club, with whom she also performs and plays. Black music is her passion, starting with Jamaican music and then came soul, rhythm'n'blues, latin, jazz, etc., and she has a preference for tunes interpreted by women.
DO YOU HAVE A SPECIAL THEME THAT MAKES PEOPLE GO CRAZY? (OR FAVORITE SONGS ON THE SET)
We all have our favorite tracks, but it happens very often that one of us puts a track on and it becomes a regular track because it becomes a favorite for all three of us. Sometimes it also happens that we play each other's tracks because we have a lot of musical connection.
This has happened for example with Tommy Hunt's 'Get out', Héctor Rivera's 'I want a chance for romance', 'The sun is a drug' by the Kifers,… and many others.
WHAT DO YOU EXPECT FROM THIS EXPERIENCE?
It's the first time for the three of us that they call us to play at the Funtastic, and when they call you to play at your favourite festival it's like touching the sky (in this case hell). What more can you ask for: do what you like best and at the best festival in the world! We hope to have a lot of fun and do our thing so that the audience has fun as well.
THERE IS ALWAYS SOMEONE TURNING UP AT THE BOOTH ASKING FOR A TRACK. WHAT IS THE MOST BIZARRE THING YOU HAVE BEEN ASKED?
Given that La Peligro is fortunately attended by people of all tastes, it has become customary for them to ask for tunes that have nothing to do with the style of parties, such as Extremoduro, Bon Jovi, Lenny Kravitz, etc. and we manage these requests with a smile and an 'I don't have it'.
Even so, there are people who ask for songs more in line with our sound and just for that, we try to please them if possible.
IF YOU WANT TO ADD SOMETHING OR MENTION SOME OTHER EVENT YOU ARE GOING TO PARTICIPATE IN
You can check out a good sample of what we do in a session that we have posted on MixCloud
You can check out a good sample of what we do in a session that we have posted on MixCloud.
It is also our idea to move beyond our city, in fact we have played in Pedreguer, León and Oviedo where we plan to return soon.
Next stop Benidorm