06 Apr

We interviewed Sento, tattoo artist and Mongolic Records Chief

Posted at 14:30h

in

Blackwork

,

Dotwork

,

Interview

,

Japanese

,

Lettering

,

Neotraditional

,

News

,

Newschool

,

Oriental

,

Tattoo styles

,

Traditional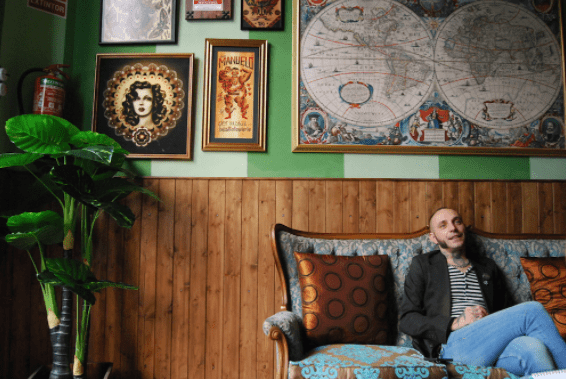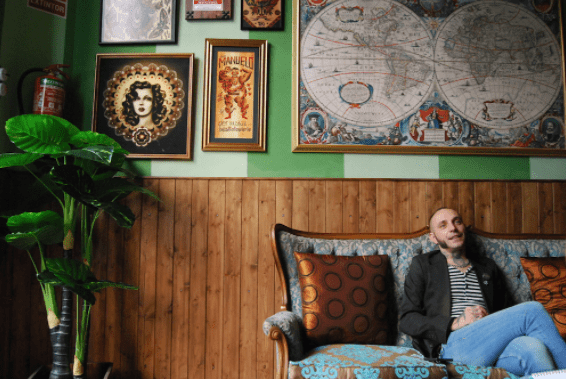 Published by Rafa Gimeno in Verlanga
 We all know tattoos and music are closely connected. In Valencia, Sento (no surname needed) knows this better than most. He runs the "No Land Tattoo Parlour" studio as well as the record label Mongolic Records. More focused on the first one, he doesn ́t neglect his passion for underground melodies and he even had his own stage at Funtastic Festival last year.Music is always present at No Land, not only through the speakers or as a topic of conversation but also because for the resident tattooists working there include musicians like Don Rogelio(Aullido Atomico, Tumba Swing) Johnny Casino o Lorenzo Gonzalez (Trocotombix).On the other hand, musicians come in often as customers, e.g. Enrique Bunbury
How did you become interested in tattoos? How did tattoos draw your attention?
I ́ve been in the punk scene since I was a child. I was drawn to everything that meant breaking the system. Many musicians in punk bands were tattooed. One day some friends asked me for drawings and designs for tattoos and that caught my attention and curiosity to find out if I was able to do it. I was good at drawing but never thought about taking an artistic path.
What was you training?
At that time, 20 years ago, my training basically consisted of buying -via mail- a tattoo set I spotted in a tattoo magazine. I started to try it out experimenting on friends, pigs skin etc… to develop my technique (there were no youtube tutorials back then) . I took some crash courses that helped me gain confidence. I started to tattoo at home and a year and a half later I was working at "Tatuarte".

So you are an authoritative voice to talk about the tattoo evolution in Valencia, since a few years back now tattoo became really trendy, a lot of new studios were opened in the city .
With the economic rise there was a boom, then the economic crisis put everyone in their place. With all that blasting, partially caused because football players wore tattoos, a lot of new studios were created. Often they weren ́t run by tattoo artists but by people looking for business and most of these studios are closed now. People working hard with continuity, kept on track. No need to say we were hit by the crisis, but not as much. Right now tattoo is everywhere, not only on football players but on models, advertising…sometimes associated with really expensive brands. Even 14 year old kids wanna get tattooed.
What do you remember from the old Valencia that saw you rise as a tattoist? 
There ́s been a very strong change. Before, tattoo was really underground with only 2 or 3 stores in the city. They kept all tattoo knowledge for themselves as a kind of secret, really hard to get in. Little by little it became more opened, internet helped a lot, it provided a chance to learn and buy material. Now everybody wants to be a tattooist. I don ́t know why, I guess it has that strange rockstar aura.
All this tattoo popularity, how do you feel about it as someone who got into tattoos through the punk scene? 
It s a double-edged sword. On one hand, for those who do this for a living it can be really good, it gets more social, there ́s more work. People are less judgmental when they see you walking down the street, it ́s more commercial. Before, people got tattooed at their local store and now they look for the style of a particular tattoo artist. That ́s the way it should be. On the other hand this popularity makes people ask for the trendy tattoo of the year. This is ridiculous, tattoos are not a pair of shoes, you ́re gonna have it for the rest of your life. It ́s good and bad. You lose part of the romanticism and mystery it had when it was marginal.
Mik Baro did the No Land graphic image, the facilities take up the old Daniel Nebot Studio. Do you think illustration and graphic art are connected with tattoo?
Not before, nowadays yes. At the beginning it wasn ́t even people with good drawing skills, they just copied designs already made. My generation did progressed more with the drawing, but we didn ́t have an academic background. The fact that tattoo is currently seen as a profession makes people coming from Fine Arts degrees or design or graphic design consider it as a way out or support to other facets they may have. Here we have Don Rogelio, he does tattoo, but also sings, does illustration.
What features define you as a tattooiste?
I ́m between neo traditional and traditional style. I ́m not limited by any style because I think of myself as a tattooist, not a tattoo artist, a word reserved for those who only cover their style. I come from the old school and that means making a living by doing everything, a whole back, a Japanese manga, etc..I highly appreciate multi-skilled tattooists. My personal style is based on nautical tattoos, navy, popular things in western tattooing, especially Sailor Jerry, Bert Grimm, 30s/40s/50s stuff with a modern look. It ́s more detail with classic style features like solid lines and powerful black.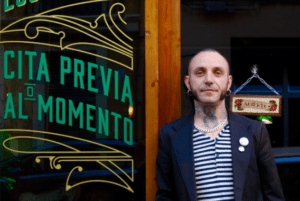 During this interview it's become obvious that there is a relationship between tattoos and musci. You run a Record Label, Mongolic Records.
I played with some bands, kind of local practice band, nothing serious. When I began with tattoos I quit playing, it required 24 hours a day. I kinda miss the fun, the practice hours forgetting about everything else. Because of my age or lack of time I didn ́t see myself on a stage playing with a band. There ́s a really strong underground scene in Valencia, young people from 17 to 25 years old, filled with energy, feeding on older generations like mine. Maria Gea worked with me, at that time she was with the band Carmonas. As business worked well, I could afford an expensive hobby, it is what it is because you don ́t make any money from records, so I put some money together to create Mongolic records. Right now is not my priority because of the No Land investment but I ́ll get back to it.
There's a strong valencian presence in your label. You have released or co-edited Carmonas album, teletexto, retraseres, cabalgata cósmica and Les Ton Ton Macoutes.
Yeah, we do have other things as well! There ́s a band from Detroit called Sisters Of Your Sunshine Vapor, they play neopsychedelic style. There ́s also a synth-pop band from Berlin called Puff!. Most of the bands are from here because it was my intention to support the local scene. In the end I release what I like, that ́s the only goal. Sisters Of Young Sunshine Vapor hadn ́t release anything for a long time, I offered to release an album and they accepted. I was delighted with the album release and the Spanish tour.
Mongolic Records is kind of an eclectic label, you can tell just by listen to teletexto or puff ! but it somehow keeps a general consistency.
The only one thread connecting mongolic ́s vinyls is darkness. I ́ve always been a huge fun of post-punk, I also come from "La ruta del bakalao" with a lots of Sisters of Mercy (who made a deep impression in my life) Alien Sex Fiend, The Cramps. I listened to all these bands in Spook without forgetting my early punk years. Puff got this dark synth-pop and the psychedelia from Detroit ́s Sisters of Your Sunshine Vapor is also dark. It is harder to find in a band from here, Carmonas or Teletexto they don ́t have any darkness, they ́re the fresh part of Mongolic bands.
More than a sound, maybe an attitude – let´s call it punk- is what it seems to connect the bands.
Yeah, it could be. Except for Sisters Of Your Sunshine Vapor, the rest of the bands do have it. Retraseres are the most punk and irreverent thing you can throw back into someone ́s face. And super politically incorrect, which I really love. Even Cabalgata Cosmica, with a more progressive and psychedelic style, call themselves punk, in terms of their attitude.