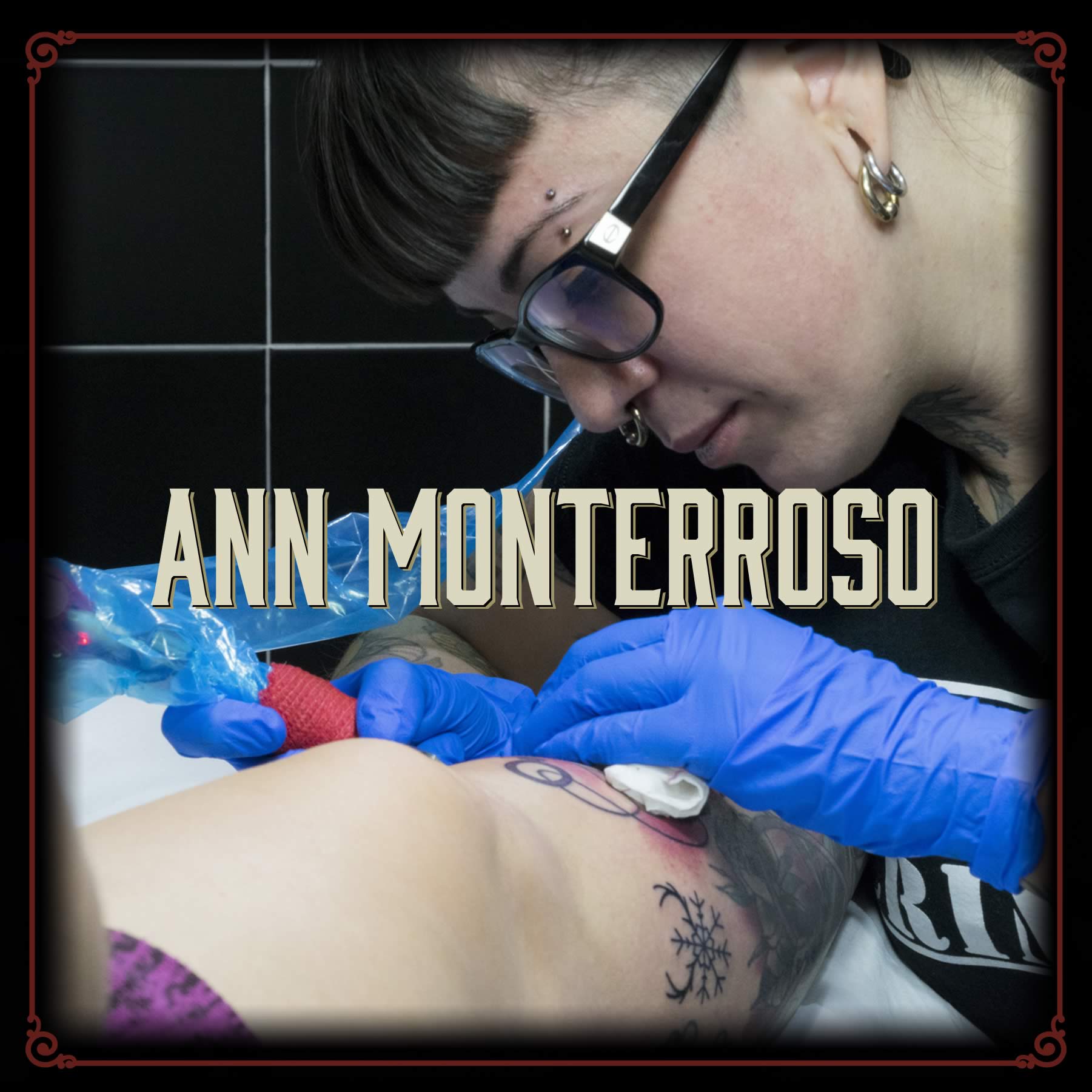 29 Nov

Interview with Ann Monterroso

Ann Monterroso,a tattoo artist from Madrid, visited us for the first time from the 16th to the 18th of November. Despite of what her surname suggests, she doesn't descend from an Italian family. She has been a guest in our studio in Valencia, and she will be in Barcelona from the 4th to the 10th of December in (Two Anchors). You can visit her Instagram @annmonterroso and enjoy her works full of colours. We have made an interview with her, so that you can know her a little bit, and we take the opportunity to encourage you to let her tattoo you, if you have a chance.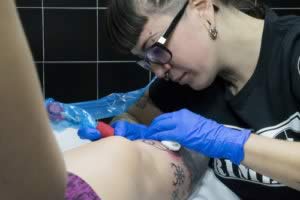 Since when have you been tattooing, and in which studios have you worked?
Since when have you been tattooing, and in which studios have you worked?
I have been tattooing since I turned eighteen. There have never been any artists in my family, let alone tattoos or tattoo artists. The only tattoo my family had seen before I started tattooing was the one my mother has. Thanks to that I had learned when I was seven what tattooing was, and since then I was looking for it until I found it. I am now 27 years old, so I have been doing this for a while. I have to say that before it was much more difficult to learn since I didn't have contacts, or I ended up destroying the skin with shitty materials, because great material didn't come to Spain, there weren't a lot of distributors and information was scarce. So, it has cost me a lot to learn and make my way in this world.
I have been in studios in Scotland, London, Portugal and Spain (In Spain I have been in Mao&Cathy where I had a great opportunity surrounded by artists and professionals, people to respect and to learn from; in Megarock here I'm currently tattooing when I'm not travelling; in Eternal Soul where I usually go in the Bask Country; in Two Anchors in Barcelona, in Black Lotus in Mallorca…etc)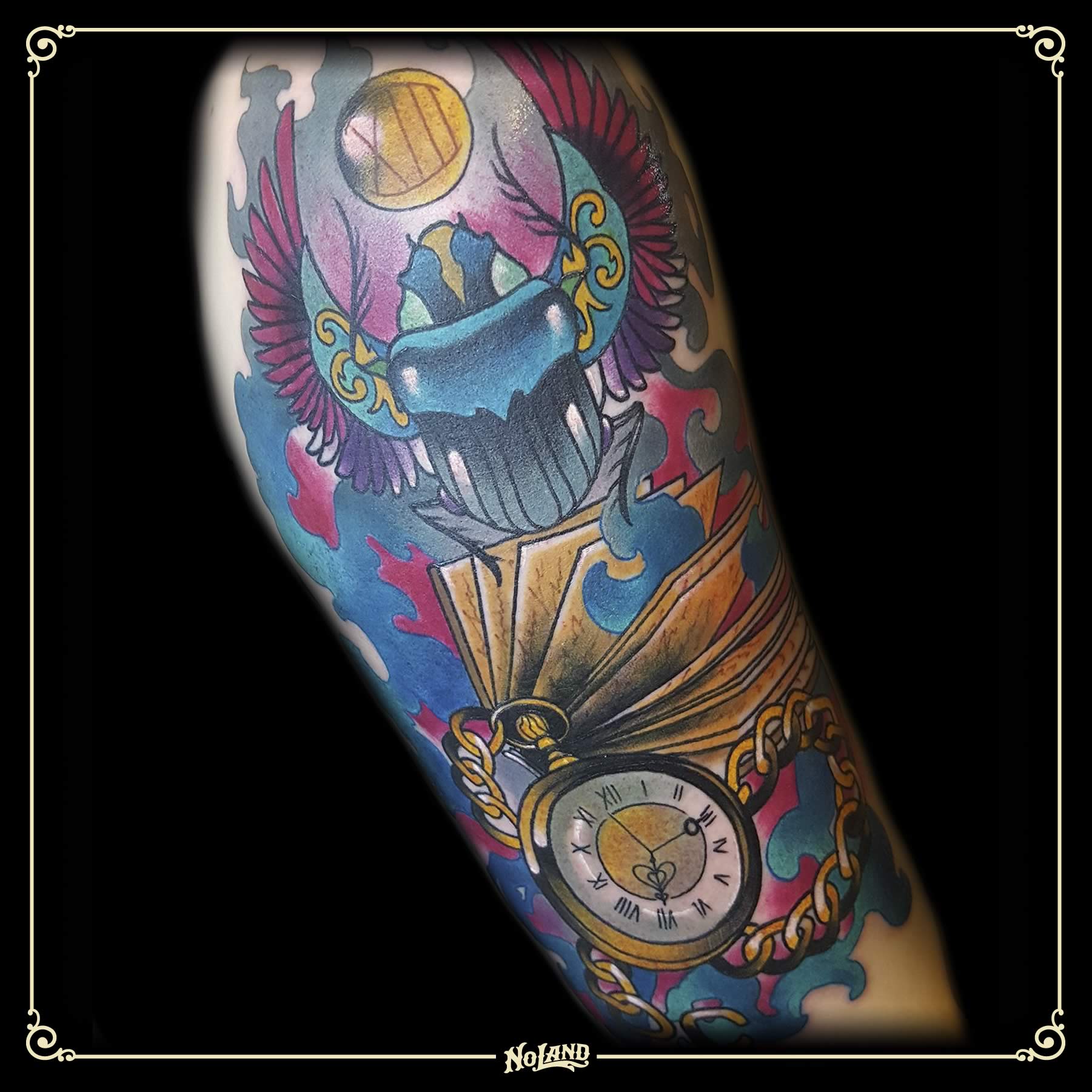 Style and characteristics, including reference tattooists. Do you have any reference outside of the tattoo world?
I think my style is the most similar to the neo-traditional, although I really try to do it as it comes without following any particular style. I have a lot of references like Perj Tattoo, Eckel, He Draws, Aimee Cromwell, Isnard Barbosa… And, to be honest, outside of the tattoo world I'm not looking for artists but rather photos, sculptures, ideas in general, and then I give them shape. But maybe once I did look up the works of someone in particular: the sculptures of Simon Lee.
Where are you going regarding your style? Or where would you like to be going?
I have no idea. I'm only trying to do it the best I can every time, to do what I like best and to get designs from my head without any filter. I love drawing dark things: people, animals, or dark objects with deformations and things like that, although I also have "cute days" when I feel like making nicer things. But, in general, what I like is tattooing. As long as the peace has colour, I enjoy it. And I would love to be able to make a tattoo that stays perfect forever. I guess this is the goal of every tattooist.
Do you do a lot of guest appearances in studios? What motivates you to do so? Do you have any upcoming invitation to another studio? Do you find it useful artistically?
I started doing this relatively recently since I have never had much freedom until now, and I love it. This is the perfect opportunity to share experiences with other tattooists and to meet interesting people. It helps to open your mind and learn new things, and you can see how other studios, other cities and even other countries work. Obviously, I'm still a bit afraid to move around a lot because it can result in great financial loss if not well planned. But I usually do my utmost to be able to go to as many places as possible, I love to see my creatures (tattoos) around the world.
I'm so happy when I go somewhere far from home and someone tells me, "I love your work, I have been following you for a long time, and I was waiting for an opportunity to have a tattoo of yours". This is the most wonderful thing that could happen to me, and luckily it does happen, and I won't stop travelling knowing that there are people who value my work and my effort.
At this moment, I'm trying to plan 2018 well because I have a lot of trips planned and not much time. Before the end of the year I will be in Benidorm (SeventySeven) and in Barcelona(TwoAnchors) , and I would like to go to all the conventions in Europe possible. I have an opportunity to go to tattoo in Miami, and I'm also thinking about going to Argentina, but I still don't know the dates. I will return to Mallorca, to the Bask Country…, and really anywhere where there is a pleasant work environment and friendly people. if they call me and offer me to stay with them for a couple of days or a week, I'll go.
Clearly, it serves me a lot, it makes me put my feet on the ground and see that tattoo artists are no rock stars but people who like this kind of art. I consider myself an apprentice, and I won't stop learning until my hands can no longer hold a machine.

How do you see the Spanish scene?
In Spain there is a kick ass level, but unfortunately I don't think that people in general value it (including tattooists). I think that at the moment in Spain the quantity of followers is more valued than the quality of the tattoos, and this is a great problem. Less filters and more photos of healed tattoos – this is what's important.