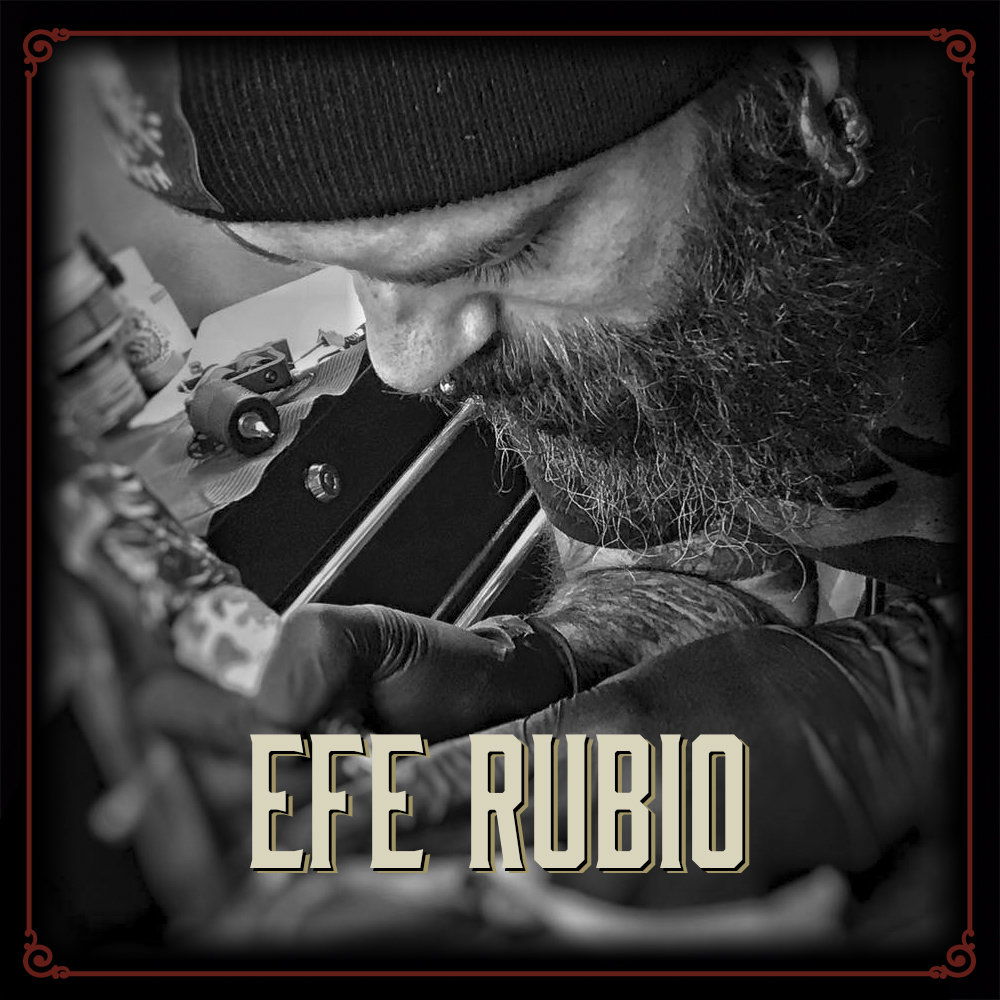 26 Jun

INTERVIEW WITH EFE RUBIO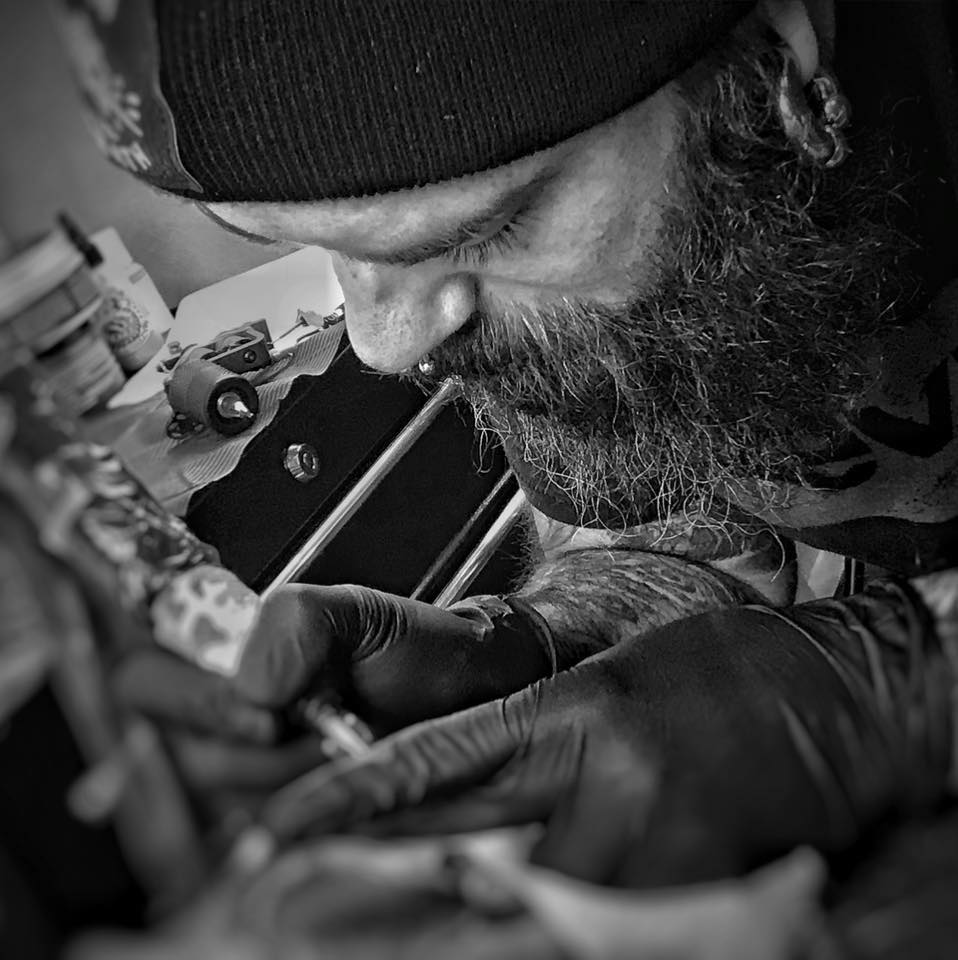 Fernando Rubio (@eferubiotattoo) a 34 year old tattoo artist born in Castellón de la Plana visited us on June 7th. His style is mainly based on the traditional tattoo, and right now he resides in Mallorca from where he travels continuously to different studios as a guest.
Taking advantage of those days he was in our studio, we made this short interview. Our curiosity would have led us to questions about balconing, fights and alcohol-induced coma, but we prefer to focus the interview on the world of tattooing. We think it will be best for you to get to know him a little better and see some of his work done here, because he will surely come back.
TELL US A LITTLE ABOUT HOW YOU STARTED, CAREER, PLACES WHERE YOU HAVE TATTOOED, GUEST WORKS, … ETC.
I started late and by chance.
I have always been interested in visual arts and focused my studies on that aspect.
I have painted since I was a child, in notebooks, on walls…in high school I spent the classes drawing instead of attending and so I quit school hahaha.
I stopped studying and began working in something completely different until I burned out, and then I decided to resume my education but focusing on what I really wanted to do.
Since I was a teenager, I have been in contact with the tattoo world as I had friends who worked in studios, and I was always giving a hard time asking questions or making the first perforations. I had tattooed myself before and I liked it but I had never thought about pursuing it as a career.
I studied photography and illustration, and my first related jobs were in an animation production company as a color technician and taking freelance photographs for a local newspaper. With the arrival of the economic crisis those jobs were over, and that was when I was presented with the opportunity to learn to tattoo.
It happened when Pilar Naranjo was tattooing me that the subject came up, and she asked me if I had ever tried it. I was curious, so I ended up with a couple of her machines and everything I needed, and I started to practice. It helped me a lot to have Pilar and Ernesto ready to solve the doubts I had.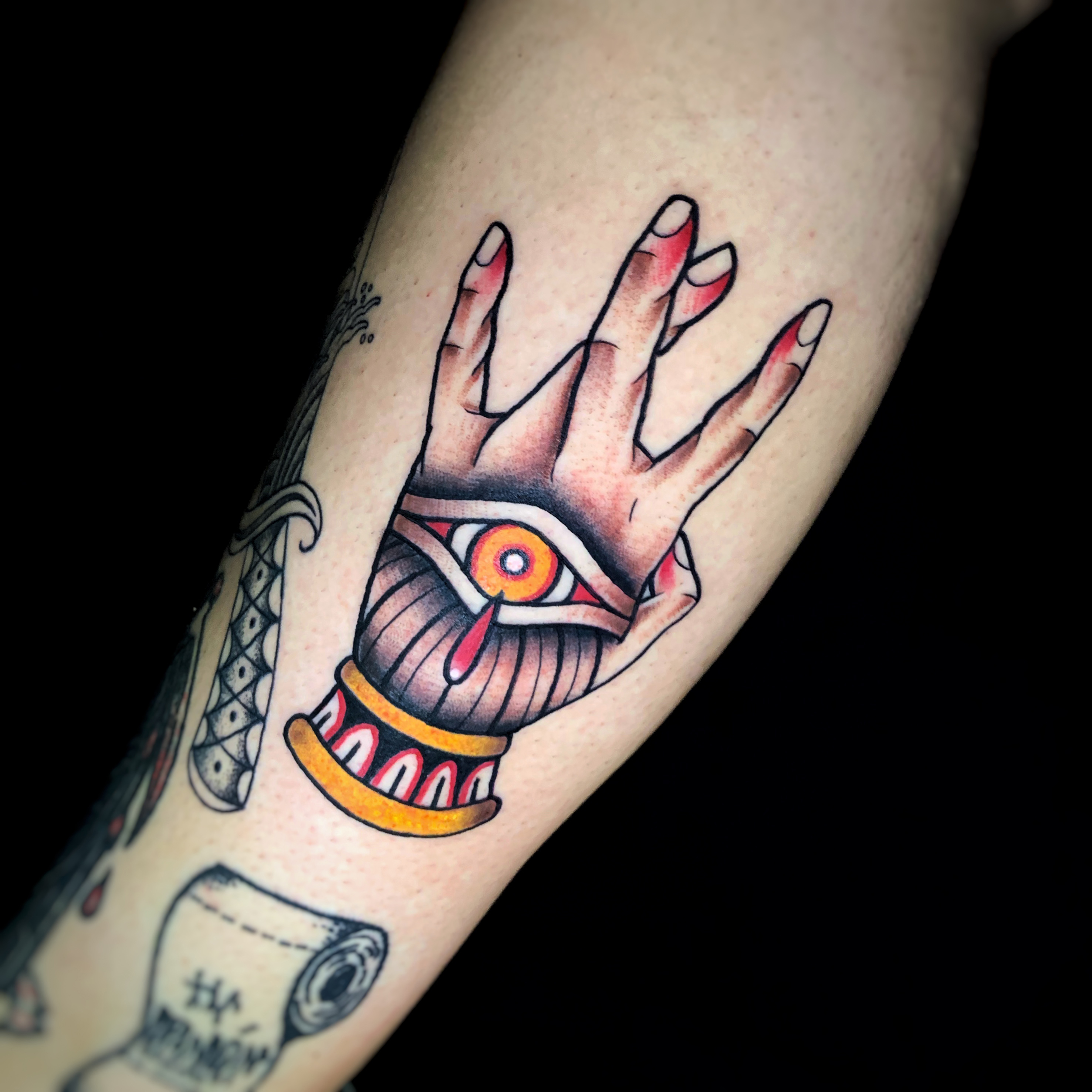 HOW WOULD YOU DEFINE YOUR STYLE AND WHO/WHAT ARE YOUR REFERENCES INSIDE AND OUTSIDE OF THE TATTOO WORLD?
"Traditional with a twist".
As for the tattoo, I've always liked very different tattoo artists, from very classic to more personal styles.
To name a few: Bert Grimm, "Cap Coleman", Steve Boltz, Dan Santoro, Derek Noble, El Monga, Deno, Dann Higgs, Andrea Giulimondi …I don't think I would stop in a while.
And outside the tattoo world apart from painters like Bosco, Caravaggio, Remedios Varo, Leonora Carrington, Pepe Doñate (and many others) I love to search for references in codices, medieval treatises, engravings, symbolism…
WE LIKE TO TALK ABOUT MUSIC: WHAT DO YOU MOST/LESS LIKE TO LISTEN TO WHILE DRAWING OR TATTOOING?
I love to tattoo/draw listening to punk/rock, metal, ambient post rock, folk, country …
And I get very tense with hammering electronic music, for example.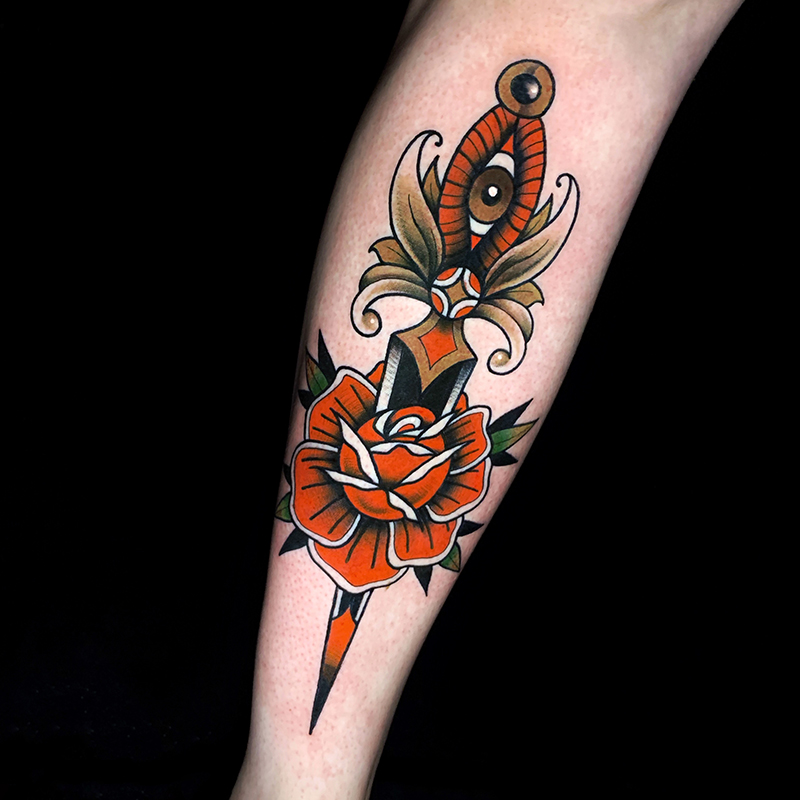 THE TATTOO HAS SPREAD AND BECOME VERY POPULAR IN THE LAST DECADE. DO YOU THINK IT'S GOOD OR BAD FOR THIS WORLD? WHY?
I think it's a logical consequence of changing consumer habits, social networks and the "immediacy" that everyone wants today. I'd like to think that it is something cyclical, trends come and go, and the waters will calm down again.
WHAT WOULD YOU NOT TATTOO AGAIN?
More than one thing in particular…I wouldn't tattoo some people again.
Some people are very difficult to deal with and tattooing feeling uncomfortable is something I have been avoiding for a long time.